Looking for antique doll identities? There are 4 possible areas on the body….
Custom Search
montanadollady
Okay Folks, I may have listings up on eBay, I list dolls, doll clothes and doll furniture, and some other stuff, click on my eBay ID above!!
….for Manufacturers Marks, finding the mark eases the identity
Over the years this doll site has been on line, the majority of questions relate to antique doll identities, value, and disposition.
Near the bottom of this page - scowl down about half way - there is a form you can fill out to share your doll interests with others, along with pictures.
The identity of a doll is the most important factor when determining value and options for disposition.
Many "seasoned" antique doll collectors , through experience, can tell the identity of a doll and many times the value, by the dolls height, the materials the doll is made of and the shape of its head - other minor details figure in as well.
Recognition of an antique doll is truly an art form!
You who are outside of the antique doll collecting community face a daunting situation when:
A. An elderly relative or friend passes on and suddenly you are in possession of a collection of dolls, or;
B. A next door neighbor or close friend asks for help with an inherited collection of Dolls, or;
C. Worse yet! You are a husband suddenly faced with a room full of dolls that need to be placed with new owners.
If this is you - the question comes to mind "where do I begin?" Do I buy books? Consult friends and neighbors? Seek out an appraiser? Spend time in an Antique Mall? Or surf the internet?
Friends and neighbors - probably not going to be much help.
Antique Malls - time consuming and very limited.
Appraisers - costly.
Books - expensive, time consuming, and often times a little confusing.
Probably the best resource for antique doll identification is the internet.
The internet provides an abundance of information about dolls, all kinds of dolls. It can be time consuming, yet cost effective.
Before searching the internet for a doll id, you will need to know several things about the doll. The main item of interest is the manufacturers mark. Many of the earlier doll manufacturers marked the bodies with a name or a number or combination name and number or combination number and letters - many marks have been cataloged on the internet.
Manufacturers marks can be found on the head or neck, between the shoulder blades or on the feet. Also, some original doll clothing will have tags hidden under garments.
Here are some examples:

Many hard plastic dolls are marked clearly although some may have no markings at all. A collector's delight is Ideal's Toni doll. She is well marked on the base of head and across her shoulders. Occasionally the leg and arm joints will have the size attributed to this particular doll. P-90 is the 14" doll. P-91 the 16".
This girl is marked: P-90, Ideal Doll, Made in USA on the back of neck. Also marked: Ideal Doll, P-90 between shoulders. A doll in her original dress may have the cloth tag attached to garment. This is not true of all original dresses........as they were childrens toys.....and they cut the tags off as you would in a dress that an adult would purchase for themselves.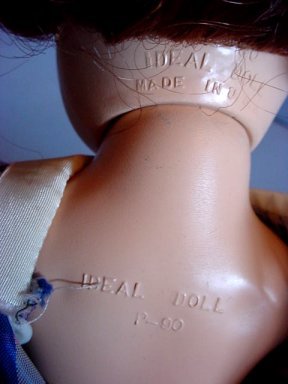 Recent sales on eBay of 106 listings sold of Ideal Toni dolls, show a price range of $0.01 to $100.00, the average price being $17.47.
For more information about hard plastic dolls, visit here
Another example:
This beautiful doll created by Heinrich Handwerck with mold number 109 is clearly marked on the back of the head under her hair.
Handwerck often stamped the body on lower back or hip in red. This is not the case with this particular doll. Dolls with kid bodies may occasionally have the manufacturer marks hidden under the kid leather which covers the shoulder plate.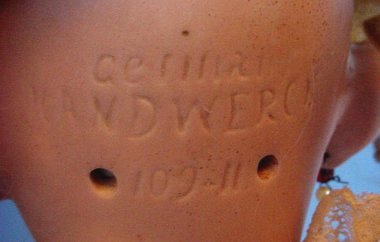 The above doll is made of Bisque and recent sales on eBay of 343 listings sold, show a price range of $0.01 to $800.00, the average price being $43. 08.
Of course, not all Bisque dolls are Heinrich-Handwerck dolls -- and condition of the higher valued dolls is very important. Are they complete body wise and undamaged, do they have their original clothing and is the clothing nice?
The markings found on the back shoulders of this sweet composition baby are very clear. Her name is "Chuckles" and the manufacturer was Century Dolls. These marks should give you enough information to browse ebay or price guides to acquire information regarding her value.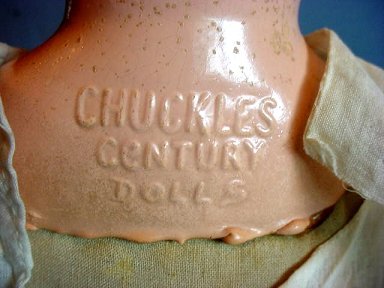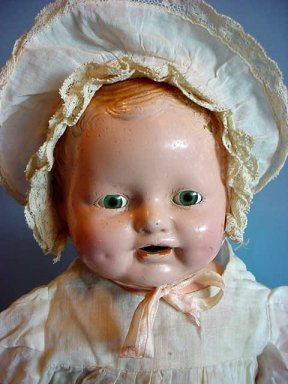 For more information about composition dolls -- visit this web site:
Manufacturer and era and the background of the doll - where it came from (original owner), an interesting story sometimes helps in the value of a doll.
How tall is the doll, height seems to be an important factor now, along with condition.
The best online source for doll identification is doll reference.com here you will find a good sized list of manufacturers marks along with pictures and descriptions.
Click here to return to the top of the antique doll identities Page
Click here to return to The Antique Doll Advisors Home Page

---
eBay is a great wedsite for "value" information about dolls, or most anything else for that matter--however, in order to see what something has sold for, registration is required, so if you are looking for past sales of any particular doll, please register
Welcome to "Show and Ask" for those hard to identify dolls!
We all love to share. If you have a doll whose id seems to stump you and you have photos and a good description, marks, size, etc.
Please fill in the form below. Someone may be able to help you out.
What Other Visitors Have Said
Click below to see contributions from other visitors to this page...