28" Bradley like doll and can't find info on it or what it is worth
by Mary
(South Williamsport, Pennsylvania, USA)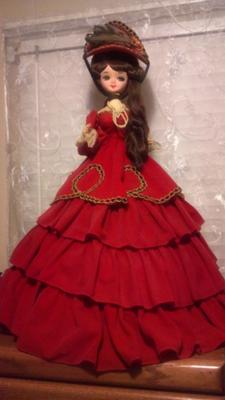 When I was a really little girl, a family friend that I thought of as an adopted grandfather passed away. His wife began going through their estate, preparing to move out of state to be with their children.

She remembered that I had admired her doll for years and when we went over to their apartment one day to help her, she handed her to me. I have kept her since.

I know she is a Bradley type of doll, but not sure of the manufacturer. I'm not sure if "Le Claire" is the manufacturer or her name. I know she was made in Korea, but am unable to find a list of names for manufacturers from Korea online. Any help would be appreciated.

I don't want to part with her, I just want to find out as much as I can about her. I haven't found one 28" Bradley type doll online anywhere.

I have always loved her and want my husband to appreciate her value to me as well and if he sees $$$, I would have more of a chance to convince him of her value to me. I know Bradley type dolls aren't worth much.