Squalling Babies--Humorous!

Lastic Plastic Vinyl Head Dolls Known as Squalling Babies--Humorous!
Vinyl Head Dolls "LASTIC PLASTIC SQUALLING BABIES"
Near the bottom of this page - there is a form you can fill out to share your doll interests with others, along with pictures.
Horsman and Ideal are several of the companies which had squalling babies. The very early vinyl version which regularly makes a tour through this house is attributed to Fleischaker Novelty Company and is marked Lastic Plastic.
"Horsman's Bye Bye Baby was not only available as a doll to be cuddled, but also marketed as a hand puppet. This boxed example is still wrapped in the pink blanket which has "Bye Bye Baby" woven overall into the fabric.
The head is the early vinyl and the "body" is the nightgown. In the birth announcement which proclaims the name of Bye Bye Baby you will find the following: "I am one day old---I turn my head and stretch my arms and try to wiggle out of the blanket. It's such fun to be alive!
I suck my thumb and as I rub my eyes....Mommy knows that I'm sleepy. She rocks me gently in her arms and she sings to me. She puts me on the pillow in her bed to be close to me.....even at night."
Care for your Vinyl Head Dolls
Circa 1948, the Lastic Plastic babies have a cloth body and early vinyl head and arms. This new medium in dolls has a tendency to darken when exposed to heat or other harsh temperature conditions. On a regular basis, the "skin" seeps a sticky residue, usually accumulating about once a year or so depending on climate.
Care of this sticky surface is really quite simple. I use a bathroom cleanser. Gently scrubbing the "skin" surface, removal takes just a few moments and keeps these babies or any early vinyl doll soft, clean and supple. DO NOT SCRUB PAINTED AREAS SUCH AS EYES OR BROWS! Although I do lightly cleanse the painted hair of the vinyl head dolls as this is a large surface and it can really become distasteful if not regularly attended.
eBay has a rather large set of listings of vintage Vinyl Head dolls for sale, if you are interested in a purchase, or to find values, if looking for values, it is necessary to register with eBay.
Through the years, I have rescued these Vinyl head dolls in all kinds of soiled, torn condition. One of the things I have always found amusing is the manufacturers use of metal screw on jar lids at the interior base of the neck, used to support the soft vinyl. Some have even had advertising on them for food products. Again, I reiterate, the manufacturers of dolls were producing dolls as a profitable business, not for collectors. I doubt they ever dreamed anyone would discover their "secret" construction.
Squalling babies, vinyl head dolls, in a group have a humorous attraction. Who did what to who first? "I can scream louder than you"! "No, you can't"! "Yes, Ican"!
Marked only Averill on the back of the head, this big lovable baby with the almost goofy smile is a product of Georgene Averill. Georgene Novelties or Averill Manufacturing Co. Circa 1945, she has a plump clothbody with early vinyl head and gauntlet hands.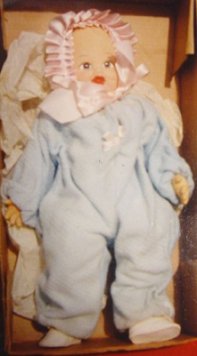 An extremely rare and hard to find doll is Hopalong Cassidy. His head and painted glove hands are early vinyl while his body is a one piece very firmly stuffed cotton. His boots are attached. The features on this soft vinyl head are excellent. A nice early tribute to one of the Saturday western heroes. In several reference books he is considered to have been made by Ideal Doll & Toy Corporation. Circa 1949.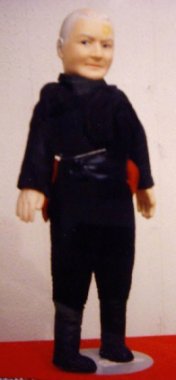 My apologies for the quality of the photos pertaining to the last two dolls. They are memories of those who have been adopted long ago........at least before the acquisition of a digital camera!!! Even a poor image is better reference than none at all.............
Probably the best place to look for present "Vinyl head dolls and accessories" value is on the Internet, primarily the auction sites--my favorite is eBay... in the completed Vinyl Dolls section of eBay you can browse the past 30 days of completed auctions of vinyl dolls and accessories. On the left side, in the box named "Display", you can selsect "Active Items" to see the "Vinyl dolls and accessories" presently up for auction.
Also, if you have a doll or doll accessories you would like to find out about...eBay is the place to start... in the Dolls and Bears Category, just type in what you have in the search window just under "Dolls & Bears" on the left, and "Shazam", there appears a list of present, up for auction items--in the "Display" box on the left select "Completed Items", a new list will appear, displaying completed items going back for 30 days.
Click here to return to the Top of the Vinyl Head Dolls Page
Click here to return to the Antique Doll Advisors Home Page
eBay is a great wedsite for "value" information about dolls, or most anything else for that matter--however, in order to see what something has sold for, registration is required, so if you are looking for past sales of any particular doll, please register
Welcome to "Show and Tell" for early Vinyl Head Dolls!
We all love to share. If you have photos and information pertaining to these lovely old Squalling Baby dolls, please fill in the form below to "Show and Tell" your favorite LASTIC PLASTIC SQUALLING BABY doll. We all have interest in how they were located, the use of materials in their clothing and any thing else you would like to share with other avid collectors.
Enter Your Title
Click here to see the rest of the form and complete your submission.
What Other Visitors Have Said
Click below to see contributions from other visitors to this page...
Unusual looking doll ! Not rated yet
This squalling baby was my doll as a child. I was born in 1946. Within the last 5 years her head color has changed drastically to create what looks like …
Squalling baby doll Not rated yet
I inherited this squalling baby doll from my grandmother. I know for sure that she was the only owner. Am Assuming the doll was purchased in New York where …
MsPatNC Not rated yet
I have 2 dolls with Lastic Plastic across their back next to neck. Neither are the Squalling Baby. I've seen one other LasticPlastic doll other than …
Mr. Know-It-All Not rated yet
I have had an eBay store (Vardy-Has-It-Now) for about five months. My wife noticed that I was doing pretty well with rare items(stuff & junk)contributed …