Babyland Rag Dolls

A Babyland Rag Doll ... One of My First Cloth Dolls
... One of My First Antique Cloth Dolls!
Near the bottom of this page - there is a form you can fill out to share your doll interests with others, along with pictures.
Check out these   BABYLAND RAG Dolls on eBay
One of the very first I selected as a "must have" from my very first doll book, The Collector's Encyclopedia of Dolls is a Babyland Rag.
The girl was the third doll I purchased and one that I have never considered putting up for adoption. A devout spinster, only recently she acquired a beau.
Created by Horsman in the early part of the 20th century. Various reference books quote conflicting dates, but I will stick with the information provided by the Coleman's, "1904 through 1920" ... in their first volume.
Revised to "1893-1928 in Volume II ... although the last two years were a reference to a composition head baby.
eBay has a rather large set of listings of vintage Cloth dolls for sale, and if you are interested in a purchase, or to find values, it is necessary to register with eBay.
Dolls with painted faces were produced until about 1907, but the Babyland Ragdolls with the lithograph or printed faces are the images which I find most appealing. These cloth dolls also included a topsy-turvy "Babyland Rag", "Babyland Baby", "Babyland Topsy", "Babyland Topsy Baby", "Topsy Turvy" (Topsy at one end and Betty at the other end),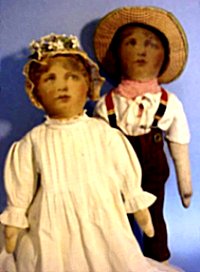 "Babyland Fancy", and "Babyland Boy" .Although doll reference books refer to sizes larger than 14 ", the latter is the most commonly found size.
Such companies sold Babyland Rag cloth dolls as FAO Schwartz, Macy's, and Gimbel Bros. ranging in price from .24 cents to a whopping 2.00. At times, reproduction copies of old Horsman catalogs are available on ebay which pictures the dolls and gives their prices. (eBay ... Collectibles ... dolls ... clothing and furniture ... antique, vintage)
One text refers to the fact that "faces may be cleaned with soap and water", but this is not something I would recommend and sometimes wonder at the result of an ambitious "young mothers" bathing attempts.
Construction of the Babyland Rag cloth dolls is simple. All cloth, very little detail, flat lithograph faces without feature definition...but a concept that even modern doll artists have repeatedly copied.
A collection of these charmers can be outstanding in eye appeal. With the surge of primitive decor in our homes, even non-collectors have sought them out to accent their country style dwellings.
Probably the best place to look for a present "doll and accessories" value is on the Internet, primarily the auction sites--my favorite is eBay... in the completed cloth dolls section of eBay, you can browse the past 30 days of completed auctions of cloth dolls and accessories. On the left side, in the box named "Display", you can select "Active Items" to see the "cloth dolls and accessories" presently up for auction. 
Also, if you have a doll or doll accessories you would like to find out about...eBay is the place to start.
Just type in what you have in the search window just under "Dolls & Bears" on the left, and "Shazam", there appears a list of present, up for auction items--in the "Display" box on the left select "Completed Items", a new list will appear, displaying completed items going back for 30 days. The only books that I am aware of on to days market that discusses and identify antique cloth dolls are:
Cloth Dolls, from Ancient to Modern:
The following two books cover a multitude of various type antique and collectible dolls, but always have reference to old cloth dolls.  
Blue Book Dolls & Values (15th Edition) by Jan Foulke and 
Blue Book Dolls and Values (16th Edition) by Jan Foulke
Click here to return to the Top of the Cloth Rag Dolls Page
Click here to return to the  Antique Doll Advisors Home Page
eBay is an excellent website for "value" information about dolls, or most anything else for that matter - however, to see what something has sold for, registration is required, so if you are looking for past sales of any particular doll, please register 
Have A Great Story About This Topic?
Welcome to "Show and Tell" for early cloth or rag dolls!
They are usually worn with love, discolored with age, but we love them! If you would like to share photos and stories of your favorite early cloth doll. You may fill in the form below. We all love to see and hear tales and facts about your most coveted dolls.
What Other Visitors Have Said
Click below to see contributions from other visitors to this page...