Unique Antique All-Cloth Baby Doll
by Karen
(NW Arkansas, USA)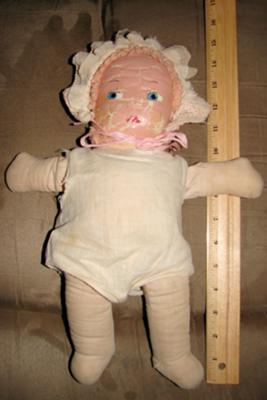 My 92-year-old great-aunt gave me a baby doll, telling me she thought it had been my mother's.

My mother said she'd never seen it before, but she thought it was older than her (she was born in the late 40s). I have been researching this doll, but I have yet to find anything like her!

Here are the doll's "particulars":

- All cloth with a fully-painted face
- Pink yarn hair fringe above forehead & at the base of the back of the head
- Appears to have been machine-sewn (or someone was a perfectionist from H-E-double hockey sticks!)
- Approximately 15" tall
- No markings or tags
- Clothing consists of a white bonnet with red polka-dots and a non-removable "onesie" (the posterior of which is degraded to the point of being embarrassing).

If you have any information on this doll, I would love to learn more about her. I'm not interested in selling her - I just wish I knew more!