Effanbee Dolls, truly quality dolls which have endured!
Custom Search
Okay Folks, I may have listings up on eBay, I list dolls, doll clothes and doll furniture, and some other stuff, click on my eBay ID above!!
Near the bottom of this page - there is a form you can fill out to share your doll interests with others, along with pictures.
Effanbee
Where to start!!!!
Effanbee. Bernard E. Fleischaker and Hugo Baum started manufacturing the F&B.....Effanbee dolls circa 1912. Truly quality dolls which have endured well over the many years since their creation. Effanbee indeed honored their slogan "Effanbee Durable dolls".
200 Years of Dolls: Identification and Price Guide


An EFFANBEE DOLL, the HEARTBEAT BABY
This particular version of the Heartbeat Baby is circa early 40's I believe. A key wind on the back enables the mechanism to tick as the babies heart "beat".
A chubby composition and cloth darling and very difficult to locate in good working condition.
LITTLE LADY and/or ANNE SHIRLEY
Love these girls!
Although the torso is often marked "Anne Shirley", the majority belong to the "Little Lady" line.
Anne Shirley was the actress who portrayed Anne in the (year) movie "Anne of Green Gables" . The original Anne Shirley generally has long braids like the character and wears little girl type dress.
Little Lady may have been advertised as early as 1938 in the mail order catalogue of Montgomery Ward......but they appear to have slender hands......believe attributed to Dewees Cochran design. The girls that took up permanent residence in our home have the thick chunky hands. Just a matter of preference.......all of these dolls are lovely.


1945 Montgomery Ward catalogue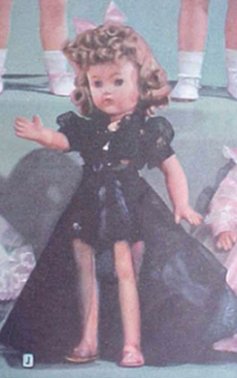 eBay has a rather large set of listings of vintage Effanbee dolls for sale, if you are interested in a purchase, or to find values, click here----(if looking for values, it is necessary to register with eBay)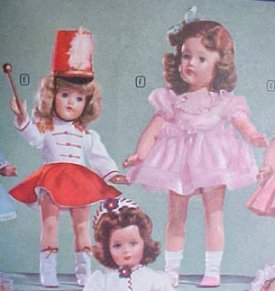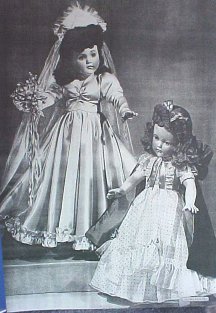 Little Lady dolls are often found in excellent condition. The composition is of such a quality that there may be little or no crazing. Ranging in size from 15"........
to a heavy 27"................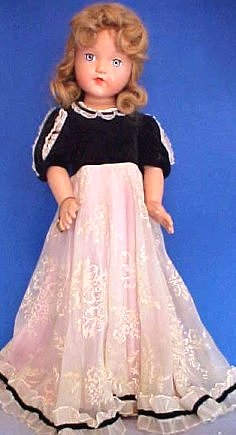 ................... they are striking in their original gowns or school dresses.........or redressed in appropriate clothing from the 1940's era.
There are many versions of formal gowns. Taffetas, tulle, velvet and chiffon. Some have an applied glitter.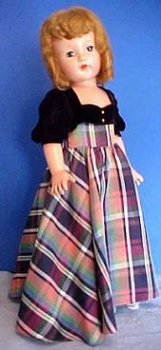 Some of my favorite Little Lady/Anne Shirley Effanbee dolls were made during the War years Click this link for a look
Often the Effanbee Dolls were referred to as "Little Lady" and "The Happy Birthday Doll"---she could play "Happy Birthday" after being wound up with the key Click this link for a look

Collecting Dolls: Reference and Price Guide
Click here to return to the top of the Effanbee dollls page
Click here to return to the Antique Doll Advisors Home Page
---
eBay is a great wedsite for "value" information about dolls, or most anything else for that matter--however, in order to see what something has sold for, registration is required, so if you are looking for past sales of any particular doll, please register
Welcome to "Show and Tell" for these "Effanbee Durable dolls"!
We all love to share. If you have photos and information pertaining to these early 1900's composition and cloth dolls, please fill in the form below to "Show and Tell" your favorite F&B Doll. We all have interest in how they were located, the use of materials in their clothing and anything else you would like to share with other avid collectors.
What Other Visitors Have Said
Click below to see contributions from other visitors to this page...

Click below to see contributions from other visitors to this page...

Rosemary

This doll was given to me by my 82 year old mother. It was her doll as a child. She must have been cherished because she is in marvelous condition for ...
Looking for information

I found this doll in a thrift store and would like some information about her.

She is about 16 inches tall and has sleep eyes and an open mouth with ...
My babies... Not rated yet
Dear people...I am a new doll collector and started my doll collection just for fun...

I remember my first composition doll!!!!I paid $18.00 and it ...
Famous People F & B Collection Not rated yet
I have inherited, through the passing of grandparents, a collection of Effanbee Dolls. I have recently went through them and taken some pictures.