Early Tin or Metal Head Dolls

The Early Tin or Metal Head Dolls, Manufactured Late 1800's and Early 1900's…
...Sported Painted Hair, Painted Eyes, Glass Eyes, and Mohair Wigs!
Near the bottom of this page - there is a form you can fill out to share your doll interests with others, along with pictures.

Tin Or Metal Head Dolls If their paint had been as sturdy as their composition of metal these dolls would survive indefinitely. Heads molded from a sheet of tin (or metal), they are usually found on kid leather or all cloth bodies.

Tin heads were sold separate from bodies, advertised in many old catalogs, therefore an old cloth handmade body is appropriate.

The most familiar name relating to tin head dolls is Minerva. They were manufactured 1894 through 1925 and perhaps a little longer. Registered trademark in the U.S. by A. Vischer & Co. and in Germany by Buschow & Beck.

eBay has a rather large set of listings of vintage Metal Head dolls for sale, if you are interested in a purchase, or to find values if looking for costs, it is necessary to register with eBay.

Many companies including Borgfeldt and Louis Wolf & Co. distributed Minerva. Old Sears and Roebuck catalogs had many illustrations of these nearly indestructible dolls throughout almost 25 years.

Tin Or Metal Head Dolls were sold with painted hair, painted eyes, glass eyes, and mohair wigs. There is also a sleep eye version. They were also more affordable than the bisque dolls.
It is only recently that doll collectors have started to appreciate the unique quality of these simple tin or metal head doll children. Years ago they were on the bottom of the list of popular dolls, now they have a firm position in the history of doll making.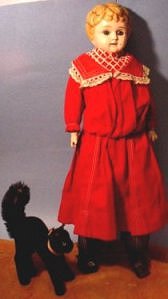 This particular glass eye metal head is marked only Germany. Her attire is complete down to her pantaloons and camisole which contributes to her charming demeanor.
Who can say if her clothing is original...but it has been on her long enough to take the form of her body, and she is dressed as she was discovered in a Montana estate.

Actually, this is the only metal head doll I have ever purchased for my own collection! Maybe she needs a friend... Information regarding Tin Or Metal Head Dolls can be found in a multitude of books.

The out of print "Collector's Encyclopedia of Dolls" by Dorothy and Evelyn Coleman. For more current reference books regarding Tin Or Metal Head Dolls:

Blue Book of Dolls and Values, 15th Edition by Jan Foulke 

Blue Book of Dolls and Values, 16th Edition by Jan Foulke 
Click here to return to the Top of the Tin Or Metal Head Dolls Page
Click here to return to the Antique Doll Advisors Home Page
eBay is an excellent website for "value" information about dolls, or most anything else for that matter--however, to see what something has sold for, registration is required, so if you are looking for past sales of any particular doll, please register
Welcome to "Show and Tell" for early Tin or Metal Head Doll!
We all love to share. If you have photos and information pertaining to these lovely very early Tin Head dolls, please fill in the form below to
"Show and Tell" your favorite Vintage Metal Head doll. We all have interest in how they were located, the use of materials in their clothing and any thing else you would like to share with other avid collectors.
What Other Visitors Have Said
Click below to see contributions from other visitors to this page...

full bodied tin doll

I am 85 and ever since I can remember I have had a full bodied male brass and tin doll. The entire body is tin and the arms and legs move. The tension …
Full bodied male tin doll

I am 85 and ever since I can remember I have had a full bodied male brass and tin doll. The entire body is tin and the arms and legs move. The tension …