(We are in the process of updating our site)

Your Headline
Your first paragraph ...
Armand Marseille of Germany (Google custom search)
Okay Folks I may have listings up on eBay, I list dolls, doll clothes and doll furniture, click on my eBay ID above!!
Near the bottom of this page - there is a form you can fill out to share you doll interests with others, along with pictures.
The largest manufacturer of German bisque dolls was probably Armand Marseille. 1865-1925+. Koppelsdorf, Thur Germany.
eBay has a rather large set of listings of vintage Bisque dolls for sale, if you are interested in a purchase, or to find values, click here 
Vintage Bisque dolls 
(if looking for values, it is necessary to register with eBay) shown are German, French and a variety of others.
When I first started collecting I was a bit dismayed when experienced doll collectors would refer to the AM (Armand Marseille) dolls as just too common or just not that desirable to purchase. At first I was confused, the dolls met all the criteria to qualify as an antique doll.......and I was thrilled that I could purchase one more readily than others.
In fact, when I purchased this 32" A.M. 390, the notable doll dealer selling her referred to her as "The Dog". True, she was nude.......but she had her original soft mohair wig and she was so large I was certain adoption papers had to be filed.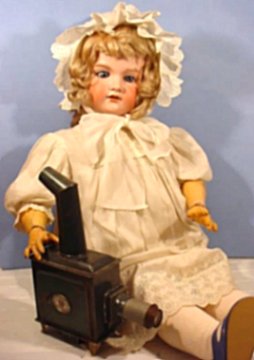 I will admit her eyes are not dead center straight, but the painting of brows and mouth is quite nice. Poo......with clothes she is quite pretty.......and she stayed with me even when I sent my French dolls to new homes.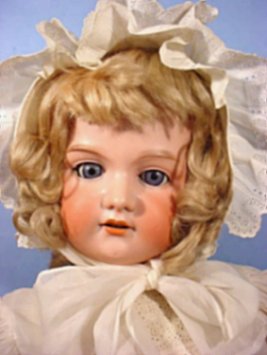 The mold number 390 is found on fully jointed all composition bodies, while the number 370 is found on Armand Marseille shoulder heads with kid bodies. These are the two most common heads manufactured by this company.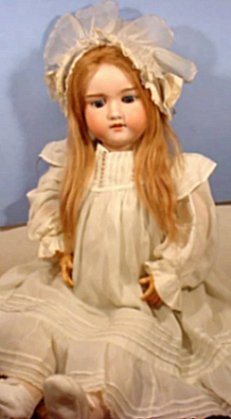 Another 32" Armand Marseille 390 with the "dolly face".
************************************************
The most often found baby is referred to as "My Dream Baby".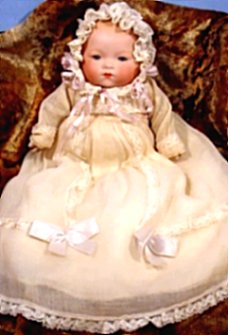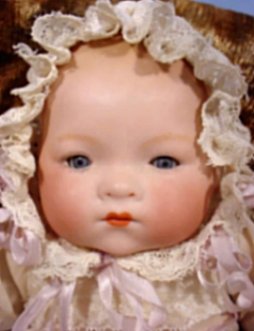 The Dream Baby mold number is 341. Now, isn't she sweet for a "common" doll???!!! She has sleep eyes and a cloth body with gauntlet hands. The 351 mold number has an open mouth.
*****************************************************
Another Armand Marseille mold that is most attractive as a rule ......3200. A shoulder head with a heavy kid body, this large 26" girl has brilliant blue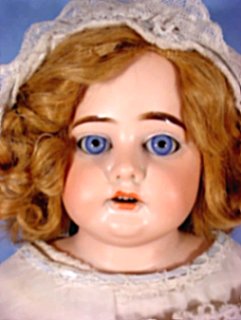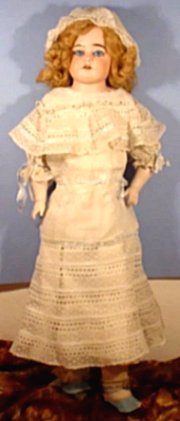 Click here to return to the top of the Antique- Armand Marseille doll page
Click here to return to The Antique Doll Advisors Home Page
(eBay Banner)



eBay is a great wedsite for "value" information about dolls, or most anything else for that matter--however, in order to see what something has sold for, registration is required, so if you are looking for past sales of any particular doll, please register Welcome to "Show & Tell"! Armand Marseille
There are so many Armand Marseille dolls in our doll world, but, all have their own unique expressions and character. Clothing adds so much to the presentaion of any doll as well. Was the doll a flea market find or was it handed down through the family? Did you create the apparel it is wearing or are the clothes original?
If you would like to share your favorite Armand Marseille story and photo, please fill in the form below.
Enter Your Title of your story about Armand Marseille Dolls
Click here to see the rest of the form and complete your submission.
What Other Visitors Have Said
Click below to see contributions from other visitors to this page...
A0 1/2 M D.R.G.M. 201013  
Recently I bought this doll. She's the first one I've ever seen. This doll has a wood voice box, sitting inside her head, with a lever at the back of her … My dolly needs to be adopted! 
My mother kept this doll which was handed down to her from one of her aunts. Now my mom has died and I am looking for a good home for this baby doll with … My Dream Baby AM341 
Hi Everyone. I work for a charitable organisation (Hospice fund raising store) and We have had an Armand Marseille AM341 doll that's recently been donated … Information on A.M. doll. 
Hi, This doll was bought at a garage sale a few months ago. I have been searching for some info on it but to no avail. Apart from knowing the makers name. … Found in Great gram's house 
Hi there, My name is Jennifer and I have recently inherited a collection of antique dolls. I need some info on several of them. The one that peek's … Anyone know who makes this doll? 
My grandmother bought me this doll when I was about 8 years old, so it was approximately 1962. It was not to play with, and it sat for many years in my … my dream baby. 
I have only been collecting antique dolls since the summer(09), I have now in total three, two 20" Kestners with shoulder plates and soft bodies and one … A M Doll 7 Dep made in Germany 
Hi, my name is John. I have a bunch of dolls which were headed to the dump and among them is the doll mentioned above. She is 21 inches tall in good … Curious Not rated yet
I recently started my granddaughter a doll collection and have been researching antique dolls. I am wondering what are the rare markings on the AM dolls. … Need help with 390 A6M doll Not rated yet
Hello! I found this doll and I need to know what she's worth. I can't seem to find anything online that matches this doll. She is a 390 doll with … Mama's Baby Doll - My Treasure! Not rated yet
Mom was born in 1918 and somehow kept this "My Dream Baby" 351 through many moves. Before she died, she gave me the doll that is now about 95 years … my new gift Not rated yet
When I was a girl my grandmother used to let me, and only me, play with her childhood dolls, and allow me to handle my great grandmother's giant bisque … My Mothers Doll Collection........ Not rated yet
I am just recently learning about Armand Marseille dolls. I inherited my Moms collection. I find that she owned a few. My favorite is Dream Baby. I chose … I need information about my Dream Baby Not rated yet
My mother had an antique shop in Chicago and had many dolls. Do ALL Armand Marseille dolls have the A.M on the back of the neck? Everything about my … A 378 M, German Ethnic Costume Not rated yet
I have been a doll collector for 30 years. Many have come and gone on to new homes. Right now I have 2 Celluloid German Ethnic Costume dolls given … What we inherited Not rated yet
Our lovely Armanda Marseille 1894 doll is inherited. Our great great aunt purchased her. She is a 3200 mold. Prime condition with original clothes, … Click here to write your own.