Small Antique Bisque Dolls, Treasures From The 1800's and Early 1900's
Custom Search
Okay Folks, I may have listings up on eBay, I list dolls, doll clothes and doll furniture, and some other stuff, click on my eBay ID above!!
Near the bottom of this page - there is a form you can fill out to share you doll interests with others, along with pictures.
Antique Bisque Dolls Many early Antique Bisque Dolls were usually small dolls. Either a stiff frozen unjointed figure or jointed with wire attachment or strung with string or elastic. They were manufactured as early as the 1860's and even into the 1940's.
The earlier Dolls were made of all bisque had molded styled hair, others had molded hats or bonnets. Some had "bald" heads with a tiny pate to hold a tiny wig. Some were modeled nude, others had molded bisque clothing. Molded and painted boots or shoes and socks were common.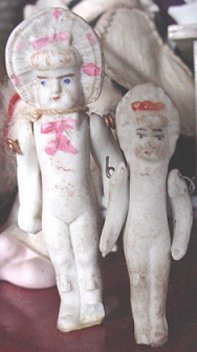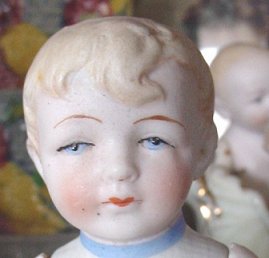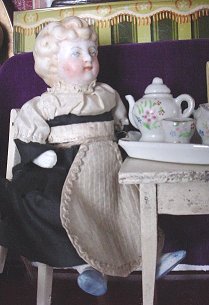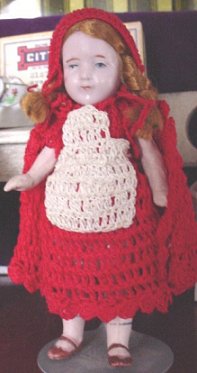 The Red Riding Hood Doll is a pink bisque.

During the 1880's, through the early 1900s, Wanamaker, Marshall Fields, and Montgomery Ward all advertised small bisque dolls. As with most dolls of this period, Germany manufactured and supplied the major stores in the US. Many all bisque dolls bear the mark "Germany", while others have only a number to identify.
eBay has a rather large set of listings of vintage Bisque dolls for sale, if you are interested in a purchase, or to find values, click here----(if looking for values, it is necessary to register with eBay)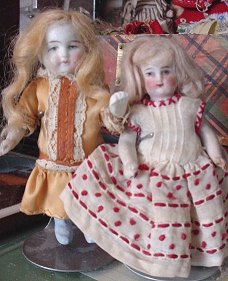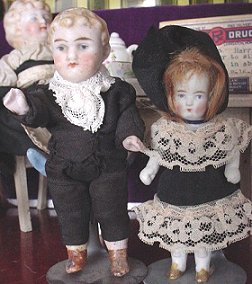 Because they are small, many of these precious Antique Bisque Dolls have been found in boxes, tucked away with their miniature wardrobes. Dresses and hats made from scraps of material, lace, feathers and even teeny buttons were made by a loving mother or a talented young girl long ago. This little girl has over 20 tiny exquisite hats!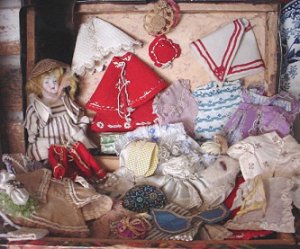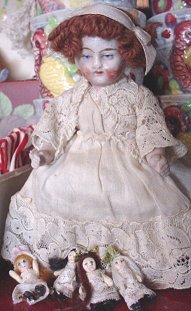 Wigs were usually human hair, but this particular doll has one fashioned of yarn.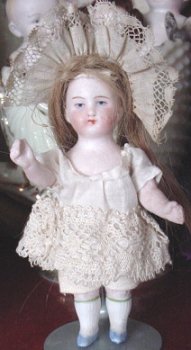 This tiny girl, on the right, has a human hair wig.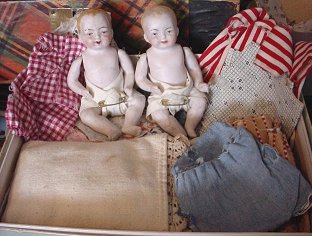 The pair of babies were found in an old Christmas gift box. With them were identical matching suits of clothing.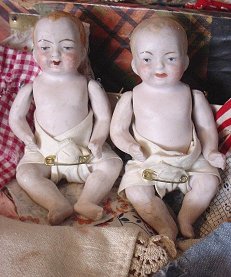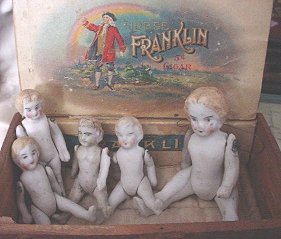 Old cigar boxes were "treasure" boxes for children and have yielded many doll treasures.
Interested in early Kewpie and Betty Boop type dolls?...Click here!

Because little Antique bisque dolls were small and easily handled by children....they were also easily LOST!!!! Which brings me to the second part of this article.
Click Here For a look at Some Ghost Town Dump Dolls
Click here to return to the Top of the Antique Bisque Dolls Page
Click here to return to the Antique Doll Advisors Home Page
---
eBay is a great wedsite for "value" information about dolls, or most anything else for that matter--however, in order to see what something has sold for, registration is required, so if you are looking for past sales of any particular doll, please register



Welcome to "Show and Tell" for small Antique Bisque Dolls!
We all love to share. If you have photos and information pertaining to these lovely Antique Bisque Dolls, please fill in the form below to
"Show and Tell" your favorite Bisque Doll. We all have interest in how they were located, the use of materials in their clothing and anything else you would like to share with other avid collectors.
What Other Visitors Have Said
Click below to see contributions from other visitors to this page...