Effanbee's Dydee Dolls

...Every Mothers Delight!!
Near the bottom of this page - there is a form you can fill out to share your doll interests with others, along with pictures.
Dydee Dolls...Ah, Yes...The Advent of the Drink and Wet Doll

Every mother's delight. Just because the water went in, that does not mean it was expelled at the same rate of speed.

I can remember my own mothers' joy when my childhood Dydee Doll, the Betsy Wetsy, withheld fluid until some unexpected moment, usually about the time she was plopped into an adults lap, leaking water on dry clean only fabrics.

With a little luck, they were wearing cotton, and only had to endure the shock of cold, stagnant water.

One of the all-time favorite "drink and wet" dolls is the "Dydee doll" baby, hyped as "the almost human doll." Dydee doll or Dy-Dee was given birth by Effanbee Dolls in 1934. They were in production until the 1950s.

eBay has a rather large set of listings of vintage Dy Dee dolls for sale, if you are interested in a purchase, or to find values,, it is necessary to register with eBay.
The earlier Dy-Dees have a hard rubber or composite head with an all rubber body. There is a tube which connects the two functioning extremities to ensure proper wetting.

Although many Effanbee Dy-Dees can be found with perfect "live" rubber bodies, the elements of time and temperature have deteriorated a good number of these dolls. The rubber dries and becomes hard before it just crumbles. These early dolls also had molded hair.

The later versions of Dy-Dee circa 1950s have a hard plastic head and vinyl bodies.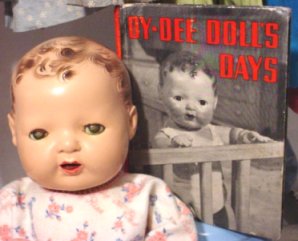 By 1940, the Dydee doll had developed a new function to delight all. The nose now had holes for nostrils. She had also acquired live rubber ears.
By 1941, Dy-Dee also was available with a caracul wig. And around 1949, she had tear ducts. More holes to leak water! What more could you possibly desire from "the almost human DyDee doll"?

Check here to see some Dydee Dolls Clothing and Accessories 
Information regarding Effanbee Dy-Dee or Dydee dolls can be located in many excellent books.
Effanbee, Dolls With the Golden Heart which is out of print.
Always some sort of additional information or lovely photographs in:
Blue Book of Dolls and Values, 15th Edition by Jan Foulke 

Blue Book of Dolls and Values, 16th Edition by Jan Foulke 

Modern Collectible Dolls: Identification & Value Guide by Patsy Moyer
Probably the best place to look for a present "doll and accessories" value is on the Internet, primarily the auction sites--my favorite is eBay... in the completed Dy Dee Dolls section of eBay you can browse the past 30 days of completed auctions of Dy Dee dolls and accessories.
On the left side, in the box named "Display," you can select "Active Items" to see the "Dy Dee dolls and accessories" presently up for auction.

Also, if you have a doll or doll accessories you would like to find out about...eBay is the place to start.

In the Dolls and Bears Category, just type in what you have in the search window just under "Dolls & Bears" on the left, and "Shazam", there appears a list of present, up for auction items--in the "Display" box on the left select "Completed Items", a new list will appear, displaying completed items going back for 30 days. 

 Click here to return to the Top of the DyDee Dolls Page
Click here to return to the Antique Doll Advisors Home Page
eBay is an excellent website for "value" information about dolls, or most anything else for that matter--however, to see what something has sold for, registration is required, so if you are looking for past sales of any particular doll, please register
Welcome to "Show and Tell" for early Effanbee Dydee Doll!
We all love to share. If you have photos and information pertaining to these lovely old DyDee dolls, please fill in the form below to "Show and Tell" your favorite Drink and Wet doll. We all have interest in how they were located, the use of materials in their clothing and any thing else you would like to share with other avid collectors.
What Other Visitors Have Said
Click below to see contributions from other visitors to this page...