(We are in the process of updating our site)

Your Headline
Clothes for Antique Dolls and Collectible Dolls
(Google search)
(montanadolllady)
Okay Folks, I may have listings up on eBay, I list dolls, doll clothes and doll furniture, and some other stuff, click on my eBay ID above!!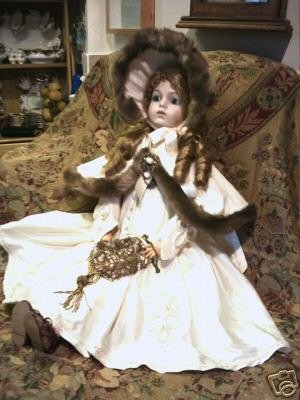 This is for an exquisite outfit hand-tailored in pure silk Dupion and completely lined for a 30"-32" antique doll. There are three pieces – a fully lined dress with attached petticoats (2) – a sensational ostrich plumed and rose trimmed with faux fur bonnet – and a cape with a brooch fastening.
The whole outfit was made by a superb seamstress Eliza Bobkins – I have rarely seen such incredible workmanship, and exceptional detailing – must have taken forever to make!
1. The dress - This is superbly tailored with a drop vee-waist. It fastens at the front with a concealed zip and silk-covered buttons. The sleeves are trimmed as shown and all the inner sleeve buttons fasten with silk loops which all open! – I have added a photo to show this as it severely impressed me.
The front skirt is again trimmed in the same fashion as the sleeves with a silk braided hem. The back has a wonderful sweeping train, again trimmed and surmounted with a huge bow. The neckline is trimmed with an antique lace collar. Please see photos for all three pieces or I could be here all day.
2. The Hat – This is wonderfully made from pure silk dupion and trimmed with grey ostrich feathers and a large pink silk rose, the brim is outlined with faux mink – again the whole bonnet is lined with silk.
3. The Cape – This is in pure silk dupion and is fully lined, trimmed with faux mink and fastens with a lovely brooch.
All these pieces are marked with Eliza Bobkins personal label.
Here are more examples of the fine craftsmanship: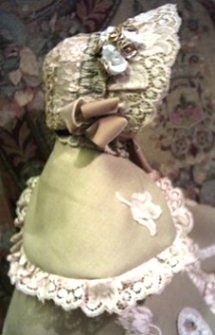 (eBay banner)
(top of page)
Click here to return to the Antique Doll Advisors Home Page
(place a Google AD)
eBay is a great wedsite for "value" information about dolls, or most anything else for that matter--however, in order to see what something has sold for, registration is required, so if you are looking for past sales of any particular doll, please register
(eBay banner)