Composition Dolls from the War Years

Antique Effanbee Dolls2 takes a look at composition dolls from the War Years
Although World War II created a shortage of many materials.........Little Lady was made available with a wig styled of yarn. These particular girls are close to my heart.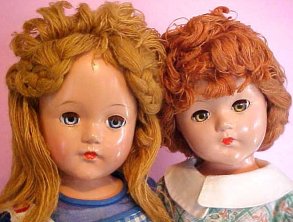 During the war years (1943) McCall's Needlework produced a pattern for the Little Lady doll which included a Red Cross Nurse uniform and a Civil Defense overall. Another was available to fashion a wedding gown, my favorite suit ......which you see worn by dolls in the R&B section, and a hostess gown.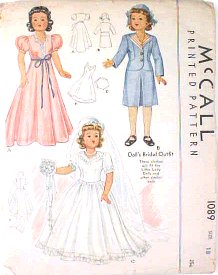 The following are clothing items........made during WWII ........from the patterns for Little Lady.
eBay has a rather large set of listings of vintage Effanbee dolls for sale, if you are interested in a purchase, or to find values, if looking for values, it is necessary to register with eBay.
This magnificent girl is 27" ..........has the yarn hair.........and wears a spectacular Red Cross outfit.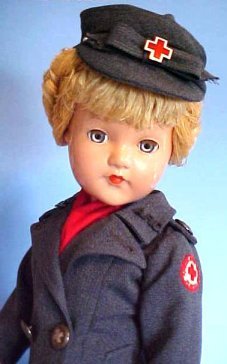 Click here to return to the to return to the top of the Antique Effanbee Dolls2 page

Click here to return to the Effanbee Dolls Page
Click here to return to the Antique Doll Advisors Home Page
eBay is a great wedsite for "value" information about dolls, or most anything else for that matter--however, in order to see what something has sold for, registration is required, so if you are looking for past sales of any particular doll, please register