Need help identifying doll from 1920's ??
by Jean Aloisi
(Agawam, MA, USA)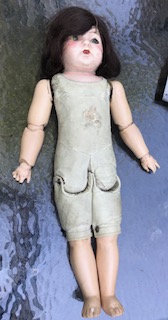 Undressed
This doll belonged to my mother who was born in 1915.


She is 22" long, has a leather body and movable arms and legs. I do not know what the arms and legs are made of. Her head is a different material than the arms and legs.
She has eyes that roll up and down, what looks like brown, human hair. No identifying marks anywhere. She is leaking sawdust from her joints. She has a red velvet hat and a lacy dress and slip.
This doll has been in a paper bag for at least 65 years! My mother held on to this doll when she became an orphan at 4 years old. She bounced from relative to relative for almost 2 years until neighbors finally took her in until she was 16 years old when her oldest sister got married and they took her in.
I would love to know the origins of this doll. She needs some work. thank you for any information!!