Please help me identify this composition doll! Thanks!
by Catherine
(San Antonio, TX USA)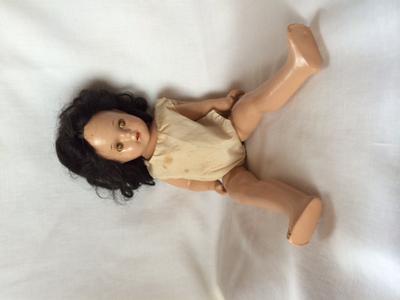 This doll was my great aunt's and she got her in the 1930s. The doll has no markings except for a "20" under one arm and a "21" (?) under the other. The one piece undergarment shown is all that is left of her clothes. It doesn't fasten--no buttons--just closes with a safety pin.


She is approximately 15' tall (with her hair flattened down) and her black hair is a wig. Her upper eyelids have "real" lashes and the lower ones are painted on. She has an open mouth with teeth showing and sleep eyes.
I'd appreciate any help! Even an idea where else to find help if you don't know. I'm such a novice with antique dolls but they're starting to fascinate me!
Thanks!