Bride doll on music box
by Juanita Age
(Louisville,Ky. Jefferson)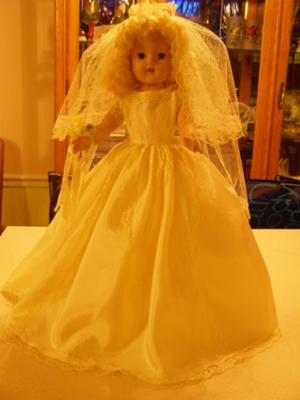 I got this doll at an early age, I'm 64 now and thinking about selling it or giving it to my grand daughter.

The doll is aprox. 14 1/2" tall she has blond hair and green eyes.Her mouth is open and it shows her teeth.

Her eyes open and close. She is joined at the arms, head, waist.

She has 172 0n the back of her head and made in USA 172 0n her back. The music stand she stands on goes around and plays here come the bride.

I would like to find out who she is and what she is worth.
Thank you.