German Simon and Halbig #122 on head. Number 32 on neck. Porcelain or bisqu doll.
by Sheryl W
(Sebastian, Florida, USA)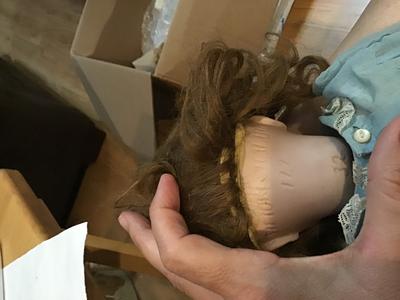 I have come in possession of an auburn-haired doll with blinkable blue eyes with painted eyelashes. She stands about 15" high. She has a slight smile with two top front teeth.


Her arms and legs are bendable with tension pulls and are jointed. Her hair is shoulder length and Curley ...brownish-red in color.
Doll has pink bow in hair on right side. Clothes consist of blue chiffon dress with white lace and tiny buttons in back. Undergarment is full body cotton double layer white laced.
She also wears bloomers of the same type with same lace and they have blue bows at lace length. She wears white fold down socks with lace and black silver-buckled shoes. She is a Very sweet doll. Would like any info including value if possible. I have attached pics for your review.
Can you help? Thank you in advance.