Early 1900 Baby Doll
by Dianne
(Summerville, SC)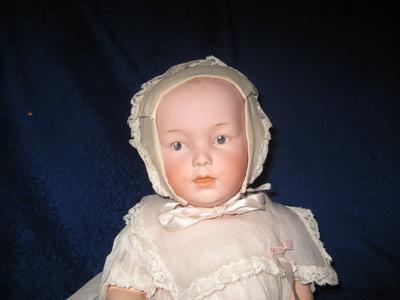 Sweet baby face
I inherited a beautiful little doll that belonged to my father's cousin. Cousin was born in 1898 so I assume the doll is from 1900 to 1910 or thereabouts.


I was allowed to hold the doll at cousins house when I was 2-3 years old and beyond and have pictures of my self at that time with the doll in the picture.
Doll is 15.5" long, has bisque head with eyes that look like they are carved into the face and blond hair molded into the head. The body is what I think is called composition with jointed arms and legs.
The only mark I can find is a 7 with the word Germany underneath the 7, on the back of her head. She is dressed in a pale pink voil over pink satin slip christening gown.
Can anyone help me identify her maker and approximate year of creation?