Juliette Beaumont
by Juliette
(Southeastern Arizona)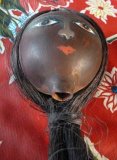 I found these dolls in a local thrift shop. I am not a big fan of dolls, but these appealed to me.


Obviously someone had spent a lot of time creating them, and there was a close attention to detail.
I have searched and searched the internet and the only thing I can find that is similar are the Toluca Gourd Dolls from Mexico, and a few dolls from Guatemala. The notable exception is that most of those dolls have wood, paper mache, or plastic arms, hands, and feet.
These dolls appendages and hair are made from some sort of natural fiber. It's got to be agave/maguey or luffa. The way the eyes are painted looks more modern to me than other examples or similar types from the 40's.
They are museum quality and in perfect condition except the wooden base which is warped and missing the support plugs on one side of the bottom.
The candles the woman is holding are real wax with wicks in a brown paper bag. The fabric used is definitely vintage and of cotton - no synthetics. Under her dress she is also wearing muslin pantaloons with elastic and lace.
Her legs are made of the mystery fiber. Her slippers are made of black velvet and some fluffy pom pom looking things for decoration. The heads are made of gourds, and come off of the bodies.
They are fairly large. The woman is 16 inches tall. The man is 18 inches tall. The base is 8 X 6 1/2 inches.
Anyway, I would like to sell them, but it would be helpful to know what they are first, and their approximate value. I understand you do auctions and this might be a good place for them.
I would appreciate any help you can give me! Thanks so much, Juliette