Jill
by Jill Vega
(Fort Walton Beach, Fl)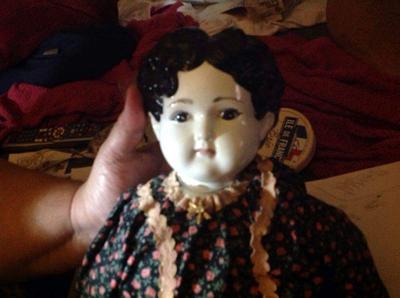 My mom found a doll, and wanted some more info on her. I've looked, but can't seem to find anything on her specifically.


She's 25 inches tall. She has molded black hair, white skin, pink cheeks, brown painted eyes with black pupils, painted eye lashes (top only), pink lips (rosebud style, almost a smirk), her hands open, add if to hold something with her thumb separate from her other four fingers, and I'm not sure if she's in her original dress, or not.
She doesn't seem to have any markings. Her head, top of chest, and top of shoulders (with indents for arms), elbow to hands, and knees to feet are the same material. Her shoes are black, and are painted on, with the front being higher than the back, and small grey painted on "button" closures on the side.
Not sure is she's bisque, porcelain, clay, or China. Any help identifying her would be greatly appreciated.