Doll Newby
by Lynn O'Dell
(Harrisonville, MO, USA)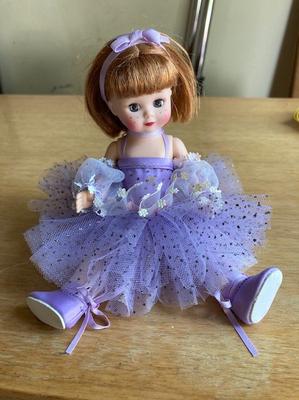 Doll #3
I came across a bag of dolls in the "free" pile at a garage sale.


4 of them have at least some sort of label:
Doll #1 is a 2003 Effanbee Sugar N' Spice Dy-Dee
Doll #2 is a 8" Madame Alexander doll, I've identified as "Party dress" Wendy,
Doll #3 is also a 8" Madame Alexander, she is wearing the Lilac Swirl ballerina outfit, but I've not found a photo of the exact doll anywhere. She has light red hair and blinking eyes. She also has a slight smile, unlike the more pouting mouth on the Wendy doll.
Doll #4 has a tag with some numbers on doll. She is 11" clothe body, hard plastic head & limbs, arms are attached just above the elbow and legs just above the knees, blond hair with curly bangs. Her hair looks like it might have been in pigtails or it has just been styled to softly curl over her shoulders. She is wearing a pink dress with rosettes on the lace collar and cuffs and a pink rosette hairband & pink pantaloons. RN#6407 OH#12217 ME#2087
The other 2 have no identifying markings at all.
Doll #5 has a cloth body, and I believe hard plastic head and shoulders (stitching attaching the shoulder piece is visible), as well as forearms (just below the elbow) and legs (just below the knee) with white molded buckle boots. She is dressed in a blue baby doll dress with lace cuffs and collar, white pantaloons and petticoat trimmed with the same eyelet lace.
Doll #6 is 14" tall, brown hair, blue eyes, clothe body, and again, I think hard plastic head and limbs (full arms and legs, attached at the shoulder and hip), dressed in blue felt footy pajamas with 2 white pompoms and white cuffs and a blue night cap with a white pompom.