Pilgrim style Parian Doll?????
by Kassy J
(Sheboygan, WI, U.S.A)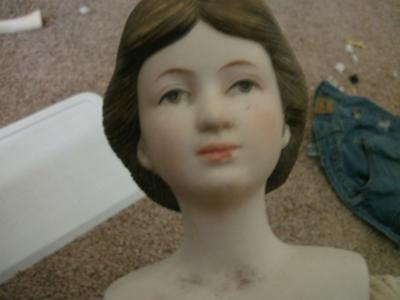 I had gone to a thrift store yesterday, and I was instantly drawn to this doll.

I am afraid of dolls to be honest, but this one just got me to bring her home.

I am attempting to research her, she is Parian as I can tell, but I cannot find ANY pictures of Parian OR China dolls with the same hairstyle.

There are no numbers or ID for her on her shoulders or feet, as well as no tags at all. I am assuming that the dress is not original but not sure.

Her arms/hands, head/shoulders, legs/feet, are all a clay like material with no glaze. I unclothed her and the rest of her is a very solid and taught pillow like body with bendable areas where it is stitched. No tears at all or any starting.

There are no chips out of her clay-like pieces. She is exactly 18 inches in length.

I was wondering what era she is from, if she is of a notable person in history, what is her origin, who made her, and finally is she worth anything?

I planned on giving her to my mother because she is an avid collector of Amish related things... but if she is not truly Amish then she will have a good safe home with me.