36" antique vintage bisque head doll
by Brian
(Minnesota)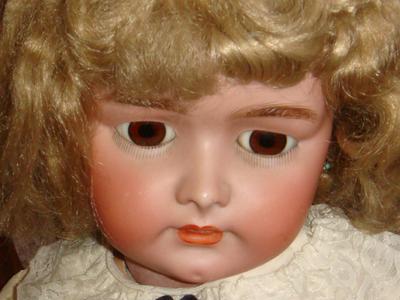 I was given a vintage doll to sell on ebay.


From what I can gather it is from the early 1900's. Doll is jointed and is 36" tall. It is a bisque headed doll that has the stamp Germany Heinrich Handwerck Simon Halbig on the back of the head. Also the number 7 1/2 at the base of the neck.
Marking near the back right hip show in red Excelsior D R P no. 70685 Germany 8.
Is this a Kestner doll body with a HH SH head? Were they mixed like that or is this a conglomeration of different dolls? Was told the dolls name is Anna?
Open mouth with 6 teeth, brown open eyes and a single dimple. Pierced ears with green earrings.
Any help would be great
Join in and write your own page! It's easy to do. How? Simply click here to return to Antique doll id's.