Porcelain body rope mounted head
by Holly stites
(West valley utah)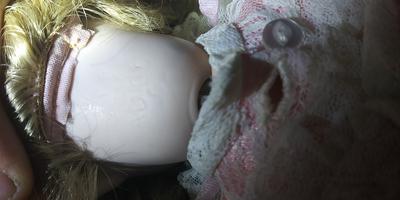 Got the doll from a friend. She has porcelain head body arms n legs. Her head is attached by a rope that goes down the body and is also attached to the limbs.


I can hardly see the markings on her neck. There are no labels on her clothes. She has panties a mesh slip for the skirt. Her dress is full of lace and ribbons her shoes come off her hair is a wig style her eyes are glass and don't move.
I'm sure it's not antique but maybe vintage. Just need some help identifying her markings. Thank you for your help.
My number is 801 651 4474. Please text me.