Help can't find anything on my doll
by Cindy sailer
(North dakota)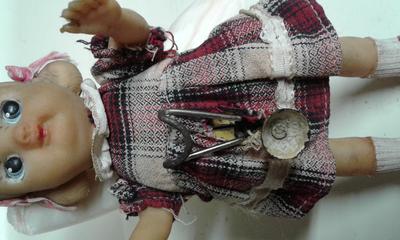 Funny hook and wheel coming out of belly
When my grandmother passed away I got this doll I always remember it being tucked way back corner of her China hutch.


Nobody knows the story behind it.the doll us 7 1/2 inches tall bottom of the left shoe says JAPAN there are no other markings that I could find. It is a wind up from the back. Rubber head rubber that slides over the metal legs arms shoes and socks are molded wilt leg.
The hook-like thing coming out of the belly and the wheeler looking thing if you turn the wheeler her legs move so she can walk. Bows in her hair made out same material as dress
Join in and write your own page! It's easy to do. How? Simply click here to return to Antique doll id's.