Beckys doll
by Becky
(NY)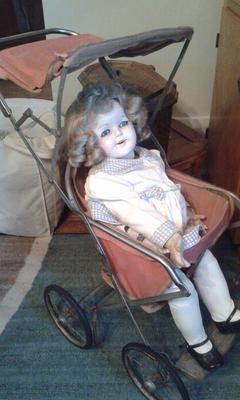 I cant find any markings on this doll, other than what appears to be a number on her hand. (see photo)



She is approx 23-24 inches tall
She has what appears to be a weaved wig of natural feeling hair.
Blue eyes with actual attached eyelashes
4 teeth with an open mouth
Her neck, shoulders, elbows, hips and knees are movable with a ball and hook type mechanism.
Her body is made of a hard substance which had almost a marbled appearance which I attribute to age.
I don't believe her clothes are original.
She also came to me in this metal carriage which I don't know if is original to her.
Any help you can give me in identifying her would be appreciated.