NEED HELP IDENTIFYING THIS DOLL PLEASE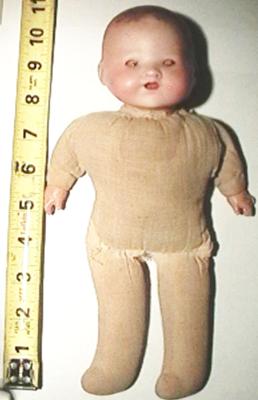 This doll and some doll clothing were found in an attic, and I was wondering if anyone could please tell me anything about it or at least the manufacturers name.

The only manufacturing marks that I was able to find were the two letters "A M" on the back,base portion of the dolls neck.

The dolls head seems to be made of some type of ceramic material,but the hands are made of some plastic like material.

The dolls blue eyeballs roll back into its head when you hold the doll in the horizontal position and roll back forward when held upright.

The body of the doll is fabric,that is stuffed with some soft material and on the dolls mid back area there seems to be some type of metallic round shaped box or mechanism,just beneath the fabrics surface.

Thank you for any information or details that you can provide.