Plaster Head, Arms, Legs, Newspaper Stuffed Body Italian Soldier 1800's?
by Elayne
(NYC)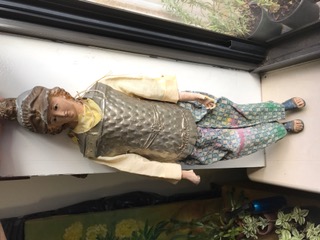 Bought in Rome in an antique store the 1950's. The clothes were added later, the vest is original and metal. The paper stuffing has Italian writing, seems to be newspaper. 18" tall
Join in and write your own page! It's easy to do. How? Simply click here to return to Antique doll id's.