36 inch porcelain type doll
by Marilyn
(America)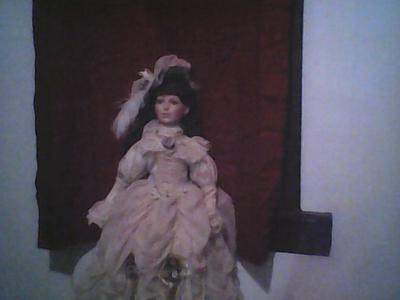 I saw a beautiful doll in a thrift store window and asked my husband to go in and check to see how much they wanted for her..He came out and said that they were asking $40.00 for her since her Bisque stand was broken..I took her...


She is porcelain like from head to shoulders at which time this attaches to a cloth formed body by the two holes in front beneath breasts and in back at shoulder level..
The arms are completely porcelain like up to socket area that attaches as the rest does.. Legs are the same...There is a mark between the shoulders that my grandson tells me that resembles an upside down flower and what he thinks reads Bella Rade or Rode not real sure on the last part...
Join in and write your own page! It's easy to do. How? Simply click here to return to Antique doll id's.