11" Bisque Head Parian(?) Doll Unknown Maker
by Nancy
(Monterey, CA USA)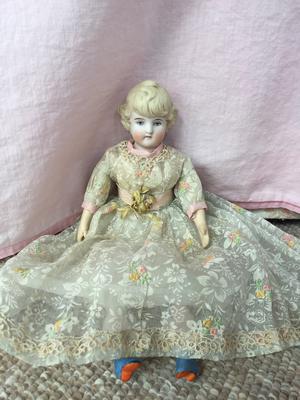 Hello,


My husband's grandmother gave me this doll in the 1980s. She had a large number of dolls but I'm not sure if she was a professional collector. This is what I wrote down about this doll when I got it:
"Winnie" 11" No mark Windblown Closed mouth replacement hands and feet.
Does anyone recognize this head, maybe know the maker?
The body is firmly stuffed and covered with cotton, then bloomers, a crisp under-apron and a pretty dress. The lower legs and arms are replacement bisque.
Thank you,
Nancy