bisque doll 4.5 inches tall, cupie doll eyes and initials of jf on upper L. shoulder
by Kathy
(Kinsman, Oh. U.S.)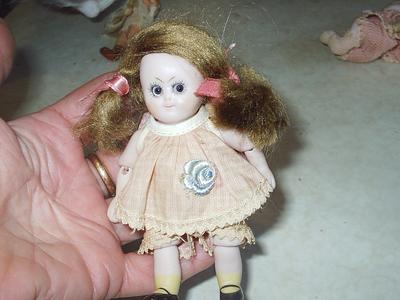 Back side where initials are
After my mother passed, I found this doll in her drawer.

She has arms, legs, hips and shoulders that move. Her joints are held together w/some type of fabric string.

She is 4.5 inches tall has big Cupie doll eyes, that do not move. The only mark I can find is on her L. shoulder. It appears to be JF or JT but I think it is JF.

Her shoes and socks are painted on.