20" Leather Doll with purple ink logo on front chest
by Marsha
(Fremont, OH, USA)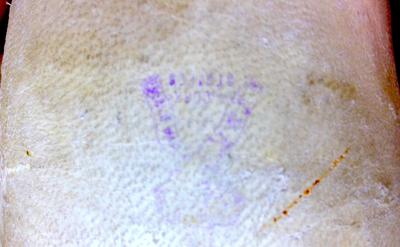 Bought at auction, 20" doll is made of white leather except hand-painted head and forearms.


She is jointed at elbows, hips and knees. There is a purple stamp on her chest that looks like a vessel. Across the top of the vessel it looks like a serial number. Underneath this number is the year 1909 (I think those are the numbers).
In the outline of the vessel are letters/numbers/symbols that I cannot make out. I am sending best 2 pictures of the stamp plus a head shot and full body shot of the doll.
Hope you can help.
She has glass weighted eyes. Toes are individually stitched.