Mrs Cheryl McLennan
by Cheryl McLennan
(Toormina, N.S.W. Australia)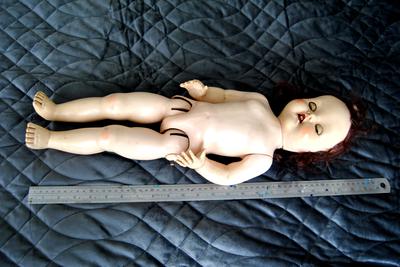 Hello,


I have a hard plastic doll approximately 55cm tall, with moveable arms and legs, and as the legs and arms move that also moves the head.
She has blinking eyes as well. Her hair has fallen out unfortunately and needs to be restored. On her back is the brand Pedigree and made in England.
I know she is at least 64 years old because she was given to me by my grandparents when I was born. This doll also has a soundbox in her back and I think she used to say "mum ma" when she was turned over.
I would like to identify this doll and get a valuation. The doll has been stored away for about 45 years and needs a good clean, but I was unsure what I could use without damaging the hard plastic.
I do hope that you can help because I would like to sell this doll to someone who will restore her back to her natural beauty.
Thank you
Cheryl McLennan