Mystery Doll
by Renee
(Holland, NY, USA)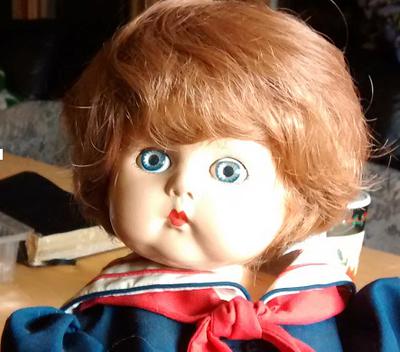 Her face
Hi...my mother-in-law received this doll as a present back in the 1980s.


She has no markings. The hair and clothes were replaced. Her head, arms, and legs move. The surface of the skin is crackled in many parts. I am not sure if she's plaster. Her eyelids open and close. One eye still has upper lashes. Both eyes have lower lashes painted on her face. Her lips are red and almost heart-shapede. There is a painted red "blush" mark on her elbows. I can see her belly button.
She is approximately 18-1/2" long. Her legs are approximately 9"long from the top of where the leg moves to the bottom of the toes. Her body measuring side-to-side in the front is about 4". The measurement from the shoulders to the bottom of her butt is about 6-1/4 inches. Her head is about 5" by 4".
I hope the pictures and description help. Thank you so much!!
Sincerely,
Renee