1910's or 1920's Black Doll with Chin Tattoo
by Jeanie
(Oregon)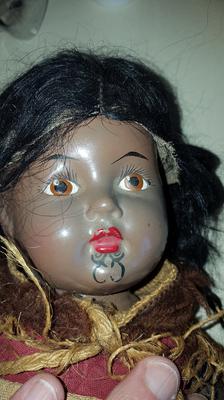 head shot
My mom recently passed and in the basement I found not only her dolls but her mother's dolls. I identified the Simon Halbig 403 from 1918 but the black doll has me stumped. I believe she's probably from around the same timeframe.


What's so unusual is the chin tattoo. I've thus far been unable to identify her. She is approximately 14" tall. She has painted eyes, eyelashes and eyebrows. Inside her head is a 460 and a symbol that I can't identify (see 4th image). She is dressed in a red undergarment, has a hair skirt and has a burlap cape.
Join in and write your own page! It's easy to do. How? Simply click here to return to Antique doll id's.