boy doll ID
by William Muncy
(Crestline, Ohio)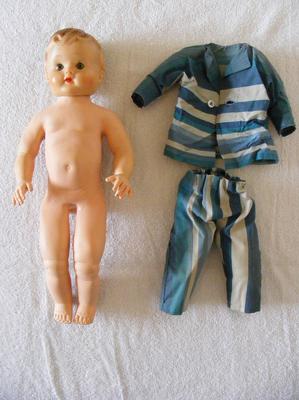 Doll and cloths
I found this guy at a yard sell and he look so cute, but I would like to know how old he is. is body seems to be made of rubber stuffed with something and the head is a harder flexible rubber with glass like eyes.

His cloths are of course hand made, you can tell by the stiches. The only marking I can find on him is the letter A on his back just above his butt.

He is about 14" tall.
Join in and write your own page! It's easy to do. How? Simply click here to return to Antique doll id's.