Antique doll query
by Julie
(UK)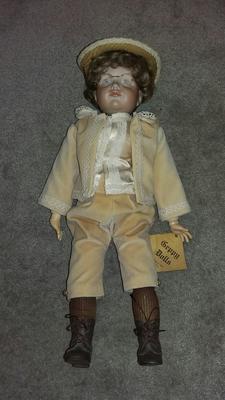 Hi, so I picked up this doll in a charity shop. I have no intention of selling but would love to know if genuine or repro.


He's 22.5 inches. On a wood and composition jointed body and is marked on the back of his neck. I see he might be a Kammer and Reinhardt of the 114 mold. But I understand that Simon and Halbig used to make their heads and were usually co-marked. But he's not.
There's also the w on the neck and a faint PW inscribed to one side of it. I can't find any mention of those marks on the internet. To add to the confusion he came with an old tag from Geppy Dolls attached (I'm assuming the toy shop) and on the back was handwritten k&r 114 Pouty, with a little red tag stapled to it saying Peter, made in Austria. So I don't know if it was his tag or not, as thought K&R were German.
He's a bit of an enigma but very sweet. I just to need to know if he's real whether I should add to insurance!
Any help gratefully received. Thanks.