DARK SKINNED DOLL MARKED 82
by Rosemary Bryant
(Corvallis, OR USA)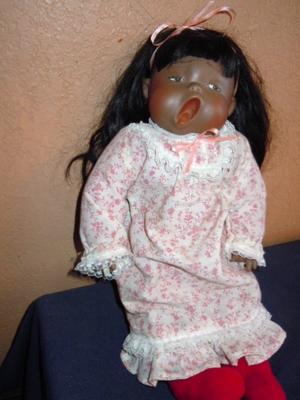 This is a dark skinned doll with a mark of 82 and some type of symbol under it. 13 1/2" tall. In a nightgown. Mouth open in a yawning position.

Porcelain (bisque) head and hands.
This doll came from an estate where the owner did a lot of foreign travel and collected quality dolls.

Hand painted face. Very long black hair, eyes are
oriental looking. In good condition. See photos.

Please help with information - could not find anything on Internet.

Thamk You.
Join in and write your own page! It's easy to do. How? Simply click here to return to Antique doll id's.