Julia Cook
by Julia Cook
(North East Lincolnshire )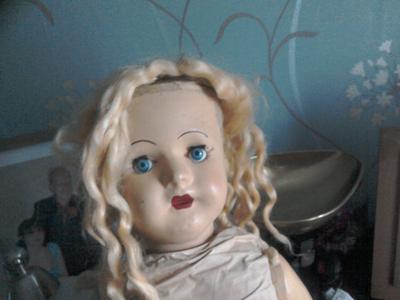 I was given this doll several years ago. I don't know anything about her at all.


She is 27" tall. Her eyes open and close. She is a walking doll, her head moves when she walks. At the top of her left shoulder, there is a protruding piece of wood.
Her body has started to crack. She is wearing a pair of red shoes. She seems to be wearing some kind of underwear, it's hard to say what it's made from it almost feels like a very thick paper.
There doesn't appear to be any makers mark on her. Her feet are slightly damaged.