Help!!Unmarked Composition 21" Doll 1940's SLEEPY AMBER EYES Wig Hair
by Diana Miller
(North Richland Hills, TX)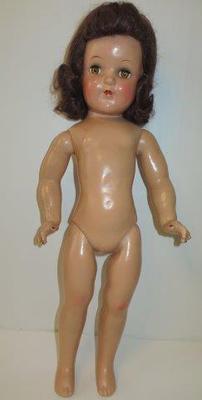 This was my bride doll in the 1940's. The dress did not last, so I don't have it anymore.

There are no markings on this composition doll. I see similar faces on line, but not this exact doll.

She has wig hair and sleepy amber eyes. She is 21" tall. The picture has her original panties, socks, and shoes.

Does anyone know what it is? I would GREATLY appreciate it.