Unmarked and came in a white box that says made in Taiwan
by Eric
(Escondido, CA)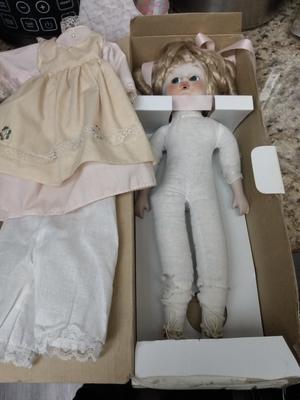 I was actually at a thrift store and saw this doll and intrigued me enough to buy it for 3 dollars.


It is completely unmarked. The head, hands, and feet are bisque/porcelain and the rest of the body is stuffed and it's tight. The wig is glued on and so are the head, feet, and hands but also stitched.
The clothes look old and the eyes and face were hand-painted. I believe but the box says made in Taiwan and so does a sticker on the bottom of a shoe. Also had 1 came with a lot wrapper inside but nothing else.
If anyone has any info on this doll it would be helpful. Thanks for your time and help.