help identifying this doll
by Charlene
(Salisbury Nc USA )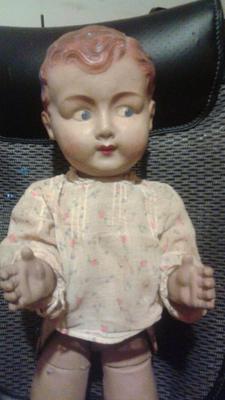 This is the upper part of the doll
I found this doll in a land field in Germany when I was about 8.

I have tried to research it for a long time but have not came up with anything. It is made out of something like card board or paper mache.

It has springs on the inside of its neck and some kind of wire in the body I believe it was to make it walk but I am not sure.

Any information on this doll would be much appreciated. It is around 2 feet tall and the mark on it looks like qoq or gog.
Join in and write your own page! It's easy to do. How? Simply click here to return to Antique doll id's.