TWO UNMARKED ANTIQUE BABY DOLLS
by Betty
(Minneapolis MN USA)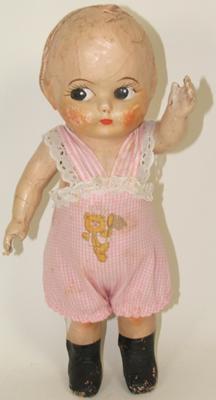 Found recently at a local 4 days per month open antique store in my neighborhood.

The Big one looks like a Kewpie Doll. She's 15" tall and made completely out of some sort of plaster that is chipping off. Arms only are jointed. Molded hair. No markings anywhere!

The fur coat baby doll is 14" long with weird, cracking head, arms, and lower legs. The rest is stuffed cloth. There's something inside her that maybe used to say momma, now just squeaks. Sleep eyes on this one. Also big block letters on the back of torso B R U, but she looks nothing like any Bru Dolls I looked at.

Help!