***PICTURES***7 ANTIQUE DOLLS NEED YOUR ASSISTANCE PLEASE***
by JENNI
(Mississippi)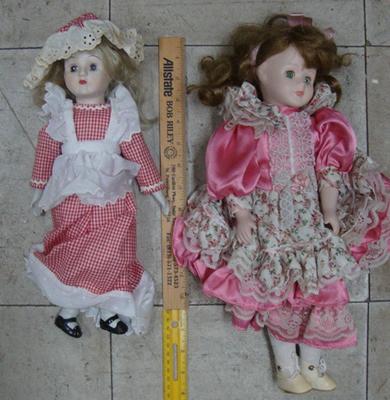 PIC 1 / DOLLS 1 AND 2
I RECENTLY INHERITED AN ANTIQUE SHOP AND CAME ACROSS THESE DOLLS. ANY HELP WOULD BE APPRECIATED. I ALSO HAVE MANY MORE PICTURES. I COULDN'T TELL IF THERE WERE ANY MARKINGS ON THE NECK. A COUPLE LOOKED AS IF THERE COULD BE BUT I COULDN'T MAKE IT OUT.

ALL MY MEASUREMENTS ARE JUST FROM LOOKING AT THE PICS NEXT TO A RULER SO THEY ARE JUST APPROX. GUESS.

THE FIRST DOLL ON THE LEFT(SHORTER DOLL WEARING THE RED PLAID WITH HAT) IN PIC 1 IS APPROX 13" (MAYBE A LITTLE SMALLER) AND HAS PAINTED ON BLACK SHOES(SHOWN IN PIC 4). SHE APPEARS TO BE VERY OLD.

DOLL#2 IN PIC 1 ON THE RIGHT (BROWN HAIR AND PINK DRESS AND EYES APPEAR TO BE VERY SLIGHTLY DIFFERENT COLORS)IS APPROX 16"

PIC 2 DOLL #3 BLONDE HAIR AND BOW, BLUE EYES, BLUE AND WHITE DRESS. REAL EYELASH HAIR. APPROX 14"

PIC 2 DOLL #4 CURLY BLACK HAIR AND HAT WEARING WHITE AND BLUE DRESS WITH PINKISH FLOWERS(BLACK DOLL)SHE HAS REAL EYELASH HAIR BUT ONE FELL OFF :(.

PIC 3 DOLL #5 (FIRST FROM LEFT)LIGHT BROWN HAIR, BLUE EYES,PINK AND WHITE STRIPE DRESS, WHITE BOW. APPROX 13"- 14"

PIC 3 DOLL #6 (DOLL IN MIDDLE)DARK BROWN HAIR, BROWN EYES, REAL EYELASHES, DRESS AND BOW MATCH, BLUE AND WHITE DRESS WITH GRAYISH(?) FLOWERS. APPROX 15 1/2" OR SO.

PIC 3 DOLL #7 (DOLL ON FAR RIGHT) WHITE FACE, LIGHT BROWN OR BLONDISH HAIR, BLUE EYES, PINK AND CREAM(OR OFF WHITE)COLORED DRESS WITH FLOWERS. APPROX 15 1/2" OR 16"

I WISH I COULD HAVE MEASURED THEM BETTER AND POSTED MORE PICS.


Join in and write your own page! It's easy to do. How? Simply click here to return to Antique doll id's.