Front of Ari? Doll.
by Carolyn
(Canada)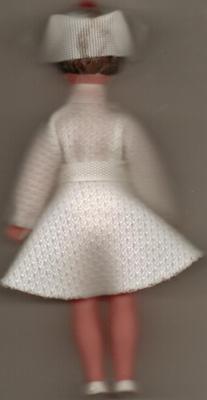 I think this is another ARI doll but her uniform is glued to her it seems but I can feel that classic triangle of the ARI company but can't seem to get to the doll's body to really see it.

Just wondering if anyone knows anything about this particular Nurse ARI doll. It's in great shape.
Thanks in advance for your time.

I purchased this one and the other two I posted on this site at a small collectible shop and was drawn to them for some reason.

Any info you have about them will help I'm sure. I am looking for info on the Nurse right now. Thanks.
Join in and write your own page! It's easy to do. How? Simply click here to return to Antique doll id's.