Need help to identify this doll please
by Corinna
(Felton, Calif. USA)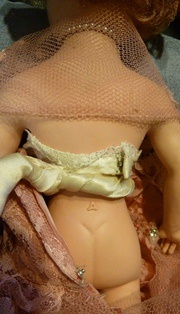 This doll was on an Ideal stand. But I don't think it is an ideal.

It has a triangle on the lower back. The triangle stands out (not in). It has VH-17 on one foot and 39 on the other. No other markings.

She is a soft squishy thick rubber or vinyl doll that is 17" tall.

Any help on identifying her would be great.