Help needed to identify two antique dolls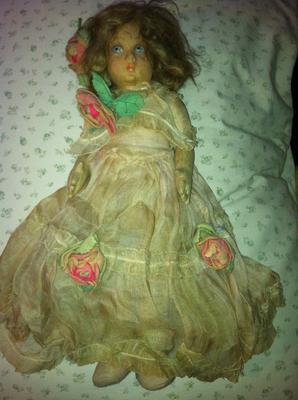 Doll 1 #1
Any help identifying these two would be much appreciated!

They were inherited from my grandmother and probably date from the beginning of the 20th century.

They have been in a closet for years and should probably go to someone who will appreciate them. I'm really not knowledgeable about dolls and can find NO MARKS AT ALL, though there is a very faint 3 on the foot of the doll in the short satin dress.

Is this composition? It's not shiny at all. Everything looks hand sewn together. Again, I know nothing about dolls! Thanks anyone who sees this and can help.

Doll #2: 17" tall, short satin dress and matching headpiece

Doll #1: 14" tall, Victorian style dress with hand sewn flowers

thanks,

Jeanhanff@gmail.com

SORRY, SITE WILL NOT LET ME UPLOAD MORE PHOTOS. PLEASE POST YOUR EMAIL ADDRESS OR SOME MEANS OF CONTACTING YOU IF YOU WISH TO SEE PHOTOS OF THE SECOND DOLL.