Please help! I don't want to cut the wig off!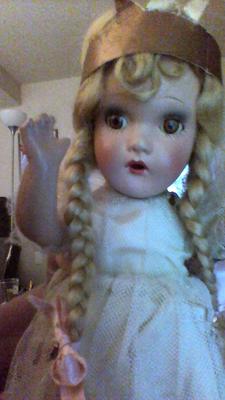 up close
I inherited this doll from my aunt. I cannot find anything on her anywhere. I also inherited her clothes, some of which are home made.


I know she is from the late 1930s- early 1940s. My aunt was never allowed to play with her so her wig is still attached to her head by string. Therefore, I cannot find the marks if there are any.
Joints are moveable. Eyes are sleepy. PLease help me to figure out if she is valuable or not or where I can get more inforamtion about the doll.
Join in and write your own page! It's easy to do. How? Simply click here to return to Antique doll id's.