Mystery doll
by Phyl Karch
(Traverse City, MI)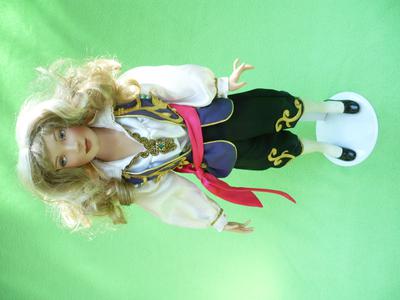 hello I have an 18 inch mystery doll with a hand painted B352 on her back left shoulder.

Porcelain/bisque? head that turns and pivots. Hands and legs are porcelain. The body is section-quilted and padding/cloth is soft cotton but very firm.

Beautiful glass eyes and under magnification they have incredibly detailed painted iris'. Painted face even impressed a lady that does make-up for a local catalog photographer. Hair is a high end synthetic and seems to have different interwoven meshes or weave patterns at base.

Lace edged satin blouse with minute gold applique and tiny snaps and hooks for closing cuffs and neckline. Same on pants. Heavy and ornate applique on vest.

Have looked at hundreds of photos and Googled the B352 in several descriptive combination to no avail.

Would love to know where this lovely doll came from.

Thank you for your time and consideration.
Pfkarch@charter.net
Have a great day !
Join in and write your own page! It's easy to do. How? Simply click here to return to Antique doll id's.