Kalifornia Kids Unable to find information on internet
by Wendy
(Santaquin, Utah, USA)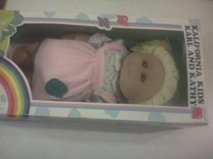 I got this doll at a yard sale. I have tried to find information about this doll and all my searches have come up with nothing.

It is a Kalifornia Kids Karl and Kathy, Sweet-Hearts, doll. The doll I have is Kathy. On the box it says it is made in Hong Kong and has the Item No. 3245.

The doll has sleeping Eyes, vinyl head and hands, all soft body.

Any help would be appreciated.