Page 4 Movie Celebrity Paperdolls

Vintage 1940's and 1950's Movie Celebrity Paperdolls, Page 4
Mary Martin paperdoll
Published by Saalfied 1942
#2427 Lovely paper doll in much loved condition. But you can still identify her face and the figures.
Popular stage and film musical actress. She truly is "Peter Pan" .........( mid 1950's) on stage and TV . Peter Pan actually flew on stage to the delight of children, old and young.
During the late 40's she enchanted audiences with her performance on Broadway in Rodgers and Hammerstein's "South Pacific" with Ezio Pinza.
"Some Enchanted Evening" sums up the theme of the magical play. Madame Alexander created a hard plastic doll version of Mary in the sailor uniform she wears in the Broadway musical.
Mary Martin had a great career in show business, check out Mary Martin Movies 

Here you can check on Books about Mary Martin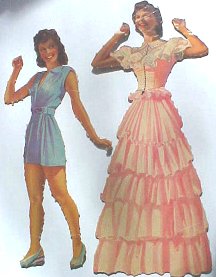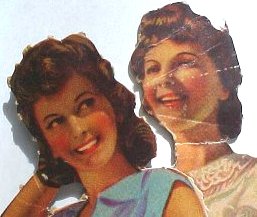 The McGuire Sisters
3 cut out dolls with dresses that sparkle
Published by Whitman 1959
Christine, Phyllis and Dorothy.
Singing sensation of the 1950's. Some of their more popular hits are: "May You Always", "Sincerely", "Goodnight Sweetheart, Good Night" and "Sugartime".
Absolutely beautiful voices........... they still perform occasionally in Las Vegas.
Phyllis was long time girl friend of former mob boss Sam Giancana.
A fan of the McGuire Sisters? You can check out The McGuire Sisters Classical Music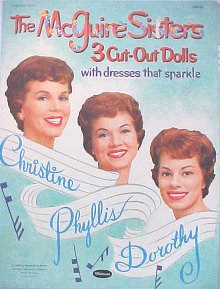 eBay has a rather large set of listings of vintage Paper dolls for sale, if you are interested in a purchase, or to find values, if looking for values, it is necessary to register with eBay.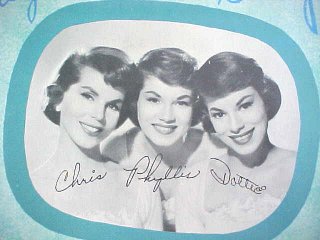 Rosemary Clooney paper doll
Published by Samuel Lowe 1956
#2569
Extremely popular songbird hit her stride in the 1950's. Some of her biggest hits were "Come On-a My House", "Hey There", "Half As Much",  and "This Ole House".
Guested on many TV shows such as "The Colgate Comedy Hour", "The Bob Hope Show", "The Perry Como Show", "The Dean Martin Show", "Password" .....and many many more.
Appeared on the silver screen in "White Christmas" (1954) with Bing Crosby, Danny Kaye and Vera-Ellen.
1954 also saw her starring in "Red Garters" with Jack Carson.
This generation knows her as actor George Clooney's aunt.
Click here to return to the vintage paperdolls page 
Click here to return to the Antique Doll Advisors Home Page
eBay is a great wedsite for "value" information about dolls, or most anything else for that matter--however, in order to see what something has sold for, registration is required, so if you are looking for past sales of any particular doll, please register